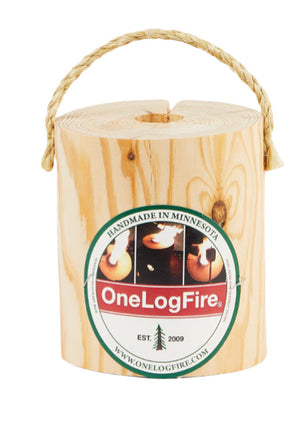 1-Mini OnelogFire Free Shipping
Regular price
Sale price
$18.00 USD
Unit price
per
Sale
Sold out
Share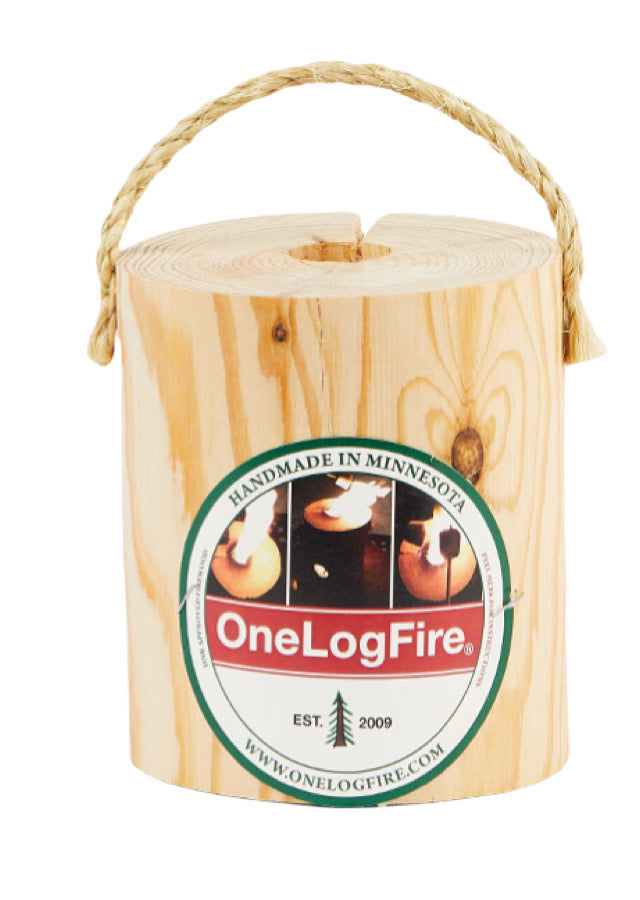 Key Features:

 Light-weight with carrying handle
 Easy to light & kiln dried 
 No cleanup
 Up to two hours of burn time
 Great for tabletop fires
 Perfect for s'mores!
 Log dimensions 5''x 5''x 6'' tall
The Original OneLogFire Campfire Tote Details:
The OneLogFire Mini is a quick-start fire log that burns from the inside out.  Inspired by the traditional European Swedish torch, our portable single-log campfire inspires campers, adventurers, beachgoers, and more to gather around the fire.  The OneLogFire Mini is handmade in Minnesota using Red Pine and is meticulously kiln-dried and cut for a consistent and controllable two-hour burn. Even more portable and lightweight than our original OneLogFire Log, our mini one log fire tote makes for a hassle-free, mess-free campfire experience! Historically, these fire logs were used by soldiers for cooking, warmth, and light. Now, you can enjoy the traditional Swedish fire log everywhere you go!
A Portable Swedish Torch for Every Adventurer
The OneLogFire has a hole on the side for quick and easy lighting and a handle on the top for effortless transportation. The OneLogFire fire log Mini measures 5'' in diameter by 6" in height and weighs less than two pounds making it perfect for transporting. The scent of our Red Pine one log fire totes is soothing and free from toxins, bugs, or other chemicals that pollute the environment.  The fire starter is also all-natural, making it safe for cooking marshmallows, hotdogs, or any other campfire recipes you have in mind.  In addition, our single-log bonfires will help you use less wood while giving you a hassle-free, reliable campfire experience that you can take anywhere.
Why Invest in a Single-Log Bonfire Tote?
People across the nation enjoy our Swedish campfires due to their portability and ease of use.  Delivering a unique and innovative way to light a small but elegant fire, our one log fires are perfect for lakeside bonfires, backyard barbecues, beach outings, or simply as a way to add ambiance to your next gathering.  Our one log fire has received national acclaim for its design and safety, obtaining the Seal of Approval from the Family Review Center and the 50 Campfires 2014 Gear of the Year awards!  It has also been featured in countless outdoor magazines, articles, and shows.
Kids, families, and adults of all ages are drawn to the magic of this Swedish fire log.  Get your single-log bonfire tote today and start making memories that will last a lifetime!
Shipping Details:
The OneLogFire is shipped via FedEx.
Please allow 2-4 business days for delivery after your order is processed.