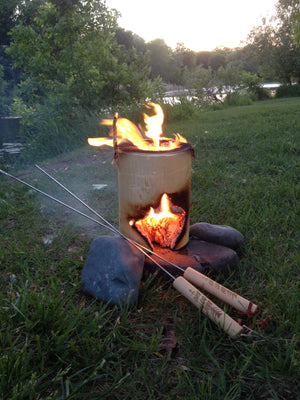 Roasting sticks Combination Pack-Free Shipping
Regular price
Sale price
$59.95 USD
Unit price
per
Sale
Sold out
Share
 Roasting sticks Combination: The   perfect blend of fire meets treats.
The Roasting sticks Combination set is a campfire accessories necessity, if you like one of each, you'll love two! Each Roasting combination Pack is an easy way to double your campfire fun in one convenient package, great for all outdoor adventures and easy, affordable gift giving.  
Each OneLogFire Roasting sticks Combo supplies you with:
2 pack of Original OneLogFire logs:  The OneLogFire is a portable quick start fire log that burns from the inside out to inspire gatherings around fires everywhere. The OneLogFire Mini's measures 6'' in diameter by 8'' tall and burn for up to two hour.s The OneLogFire logs are made from kiln dried Red Pine from sustainably harvested forests in Northern Minnesota. The OneLogFire logs are changing the way you enjoy a campfire, using less wood than a traditional campfire with convenience, ease and hassle free. These DNR Certified logs are easy to transport and because the OneLogFire's only weigh two pounds, they are perfect for backpacking, toting on a picnic or sporting adventure, RV'ing or your next party! Great for the country or city, take them wherever you want to enjoy a convenient, mess free fire.
2 pack of OneLogFire Roasting Sticks:  Make S'more fun at your next gathering with these hand-crafted campfire roasting sticks come with birch wood handles, a 24" long Stainless-steel rod and convenient leather loop for easy storage and display. 
Easily portable and light, the OneLogFire Roasting combo of fire logs and roasting sticks makes having a fire a fun filled experience-- enjoy family bonding with easy treats cooked right over the fire! Makes for memorable times making hot dogs and marshmallows to share. You can enjoy  the fun of a campfire with all the convenience and ease you want, a campfire accessories bundle you can't beat!
Shipping Details:
The Roasting Combo is shipped via Fedex Ground, please allow 2-5 business days for delivery after order is processed.
Get your Roasting sticks Combo now for a great campfire treat!