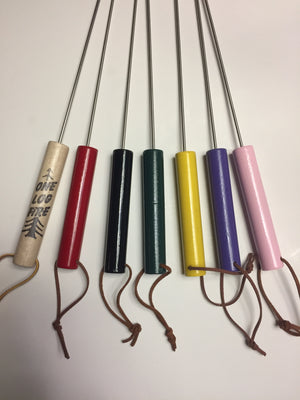 Roasting Sticks - 4 Pack-Free Shipping
Regular price
Sale price
$42.00 USD
Unit price
per
Sale
Sold out
Share
The Four Pack of OneLogFire Roasting sticks 
The OneLogFire four pack of campfire roasting sticks are an easy way to maximize fun by a fire and this convenient bundle comes with four handcrafted roasting sticks so that four people can enjoy campfire time together. Make memories with this easy tool! Handmade in MN, each campfire roasting sticks is hand assembled with a ¾ inch smooth, finished Birch wood handle and the highest quality 1/8-inch-thick stainless-steel rod that is 24" long. At this length, you can sit comfortably and safely nearby the OneLogFire log or any traditional fire to enjoy any tasty bite on a stick with knowing your food and treats are on a sturdy cooking tool. Each OneLogFire campfire Roasting stick handle is branded with the OneLogFire logo or chosse from six differnt colors and has a hand tied leather loop for convenient storage, hanging or for display. Perfect for roasting marshmallows and enjoying memorable times together using the roasting sticks as a universal cooking tool. The easy cleanup of stainless steel means you'll be able to re-use these sticks for years to come. Getting a four pack will ensure that nobody in your family or your celebration has to share or wait for their roasting fun!
The length of the OneLogFire campfire roasting sticks gives you more control when roasting your favorite foods because it gives you the ability to shift and move whatever you are roasting closer to or away from the fire. No more burned marshmallows or charred hot dogs, and don't forget to take a look at the many recipes for breads, meats, appetizers and dinner, all of which you can enjoy using your OneLogFire roasting sticks. 
Family bonding has never been so easy.
Shipping Details:
The 4 Pack Roasting Sticks are shipped via USPS with a  delivery time of 2-4 business days after order is processed.
Order your Four pack of campfire roasting sticks and start your campfire fun!