Waterproof Match Safe-Free Shipping
Regular price
Sale price
$13.95 USD
Unit price
per
Sale
Sold out
Share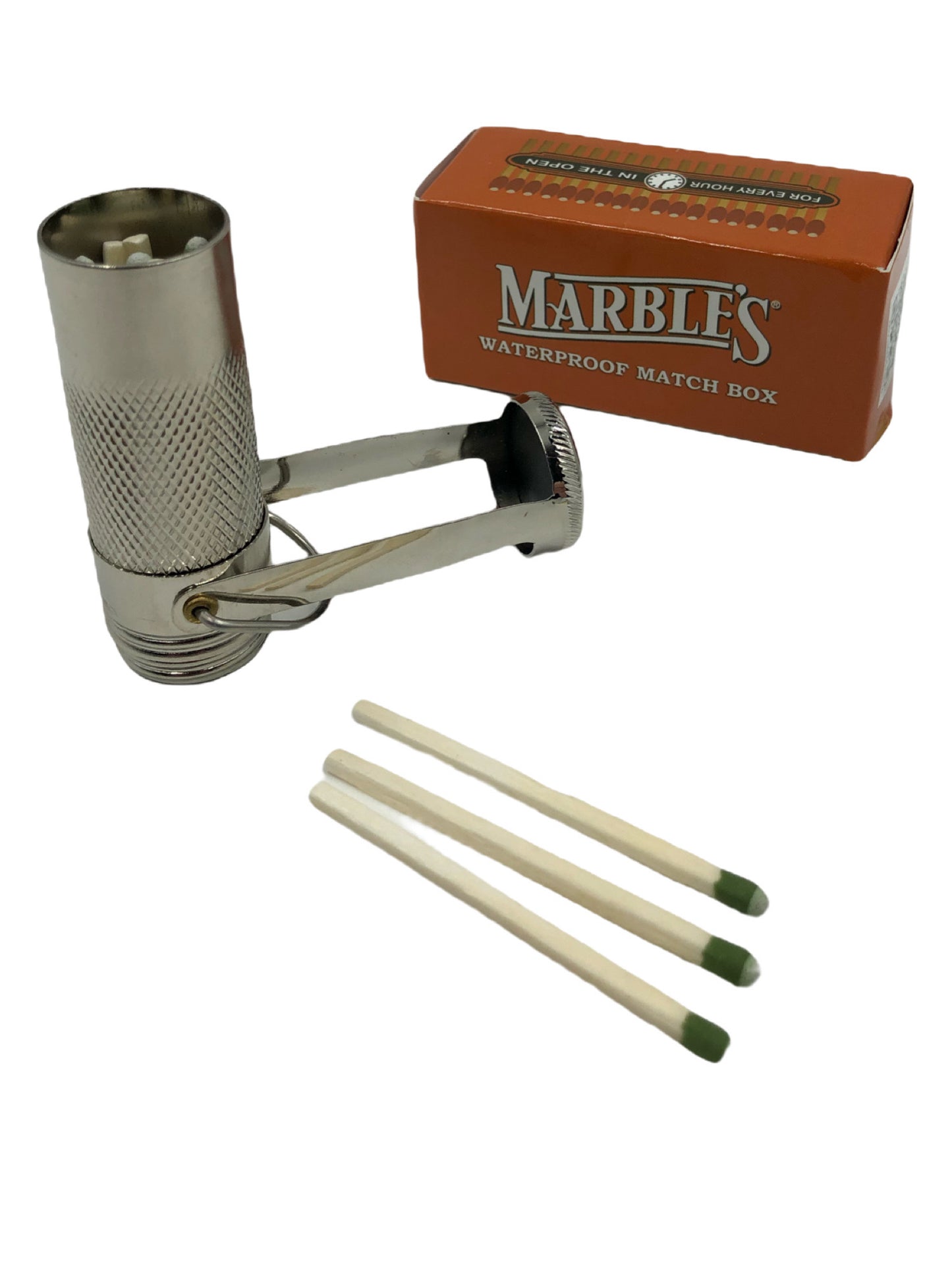 Enjoy the safety and comfort of knowing your stuff is safe with Marble's Match Safe
The Marble's Waterproof Match Safe is based on the 1900's patent, measuring 2 5/8" overall, made from Nickle plated Brass construction.  Built originally to hold matches in safekeeping from water or the elements, now this handy, durable tool becomes a convenient and subtle safekeeping place for anything that can fit into a 2" inch cylinder. The Marble's Pocket match safe can be quickly opened and closed in the dark and it comes with 10 matches so that you are automatically prepared!. A waterproof match safe is a convenient and affordable camping gear essential for anyone who is caught out in unexpected weather or climate that needs warmth, dry clothes and something hot to eat or drink. Having access to dry matches is always a comfort and has been known to save lives. Consider using this tool for other items you hold dear: medication, screws, nails, spices, jewelry or coins! Perfect for traveling with your favorite items.
Marble's Match Safes were originally created by Webster L. Marble who came to Michigan's Upper Peninsula in the early 1900's and quickly gained the reputation of being one of the region's finest timber cruisers. Marble loved the great Outdoors and the vast Upper Peninsula offered innumerable opportunities to hunt, fish, camp and explore the environment. An inventor by nature, he was continually seeking to create useful tools and equipment that would be both practical and durable in the Outdoors. Now you can enjoy his legacy through owning your very own Marble match safe or you can start a new tradition by giving this affordable tool to someone who will enjoy the power, ease and convenience of knowing they will be protected from the elements and prepared for the worst with this essential camping gear. 
Great gear for Campers and Backpackers, outdoor enthusiasts or for those wanting to keep something in a safe, protected place in a durable and transportable way.
Shipping Details:
The match Safe is shipped via  USPS. Please allow 2-4 business days for delivery after order is processed.
Free shipping
Enjoy knowing you're prepared with this this OneLogFire endorsed Marble's Match Safe